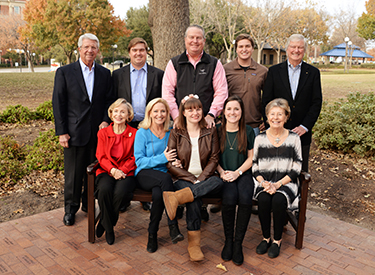 2022
Theme: Scottish Rite for Children: Centennial Celebration!
Entertainment: Andy Grammer
2020
Theme: F-R-I-E-N-D-S-H-I-P Now, More Than Ever
Honorary Event Chairs: Jennifer & Mark Followill
Event Chairs: Kathy & Todd Whitthorne
Entertainment: Emerald City Band
2019
Theme: Our Field of Dreams
Honorary Event Chairs: Katherine & Ian Fitzsimmons
Event Chairs: Janet & Joel McCarty
Entertainment: Five Islands Family Band and Hudson Moore
2018
Theme: Believe In Wonder
Honorary Event Chair: the late Vester T. Hughes, Jr.
Event Chair: Jeff W. Smith
Entertainment: Emerald City Band
2017
Theme: Color Me Texan
Honorary Event Chairs: Ginny & Randy Bailey
Event Chairs: Niven Morgan & Shelby Wagner
Entertainment: Emerald City Band
2016
Theme: Celebrate
Honorary Event Chairs: B.K. & Mark Sloan
Event Chair: Hadleigh Henderson
Entertainment: Emerald City Band
2015
Theme: 20th Anniversary - Cheers to 20 Years!
Honorary Event Chairs: Annette and the late Harold Simmons and Kammy & Andy Fleck
Event Chairs: Leslie & Brian Ficke
Entertainment: Pat Green and The Project band
2014
Theme: In Our Own Backyard
Honorary Event Chairs: Janie & Judge Joe Ashmore
Event Chairs: Rick & Lori Ashmore Peters
Chef Chairman: Kent Rathbun
Entertainment: Emerald City Band
2013
Theme: The Great State of Texas
Honorary Event Chairs: Dee & Dodge Carter
Event Chairs: Stacey & Rep. Dan Branch
Chef Chairman: Janice Provost of Parigi
Entertainment: Stoney LaRue and DJ Lucy Wrubel
2012
Theme: An Evening Under the Stars
Honorary Event Chairs: Lark & J. C. Montgomery, Jr.
Event Chairs: Susan & Stephen Butt / Betsy & Richard Eiseman, Jr.
Chef Chairman: Dean Fearing
Entertainment: Robert Earl Keen
2011
Theme: TSRHC's 90th Birthday Party
Honorary Event Chairs: President & Mrs. George W. Bush
Event Chairs: Carolyn & Karl Rathjen, M.D.
Entertainment: Lee Ann Womack
Food provided by Central Market
2010
Theme: 15th Anniversary
Honorary Event Chairs: Linda & Donald Carter
Event Chairs: Christi & Hal Urschel, III, M.D.
Entertainment: DJ Lucy Wrubel
First time in Treasure Street event history to surpass $1 million in fundraising.

15th anniversary of Treasure Street and homecoming to hosting the event back on the TSRHC property.

First time in event history, Northern Trust is named presenting sponsor of 2010 Treasure Street with a gift of $100,000.

Treasure Street's proceeds benefit TSRHC's Charles E. Seay, Jr. Hand Center, Tuberous Sclerosis Clinic, as well as general patient care.

Fourteen clinics (13 U.S., and 1 in Belguim) are currently submitting data to the TSC database; TSRHC was the original clinic to launch the database and has the most participants.
2009
Theme: An Evening in Paris
Honorary Event Chairs: Pat & Claude Prestidge, M.D.
Event Chairs: Peggy & Dan Meyer, M.D.
TSC database starts to be utilized for research
2008
Theme: Do You Believe in Magic?
Honorary Event Chairs: Tricia & Gil Besing
Event Chairs: Gerry & Rod Jones
2007
Theme: TSRHC, A Texas Treasure
Honorary Event Chairs: Annette & Harold Simmons
Event Chairs: Christie & Frank Scardino

Treasure Street Board designates Treasure Street as an annual signature event for TSRHC.

First Treasure Street hosted at Highland Park Village benefiting all patients at TSRHC; event fundraising continues to support TSC Clinic and finding a cure.
2006
Theme: Viva la Treasure Street
Honorary Event Chairs: Matrice & Ron Kirk
Event Chairs: Kristi & Ron Hoyl

Funded $2 million goal to cover lab and pharmaceutical costs for TSC Clinic.

TSC database was launched in partnership with TSRHC to collect information about this inherited disease, which affects various organs in the human body: including the brain, heart, kidney, lung, skin, and is associated with developmental disorders such as autism. The database will serve as a resource of information to researchers with a long-term goal of finding a cure for tuberous sclerosis complex and improve the lives of those affected.
2005
Theme: 10th Anniversary
Honorary Event Chairs: All past honorary chairs
Celebrity Chair: Kara & Bill Guerin
Event Chairs: Kammy Fleck & Lynette Thweatt
2004
Theme: Peace, Love & Treasure Street
Honorary Event Chair: Charles E. Seay, Jr.
Event Chairs: Debbie & Chris Myers

Raised $350,000 to offset cost of initiating the Tuberous Sclerosis Complex (TSC) database that will pool clinical information from TSC patients seen in participating clinics across the country.
2003
Theme: What a Wonderful World
Honorary Event Chairs: Mary & Larry Lange
Event Chair: Katie Fares
2002
Theme: Splendor in the Grass
Honorary Event Chairs: Marty & Bob Baker
Celebrity Chairs: Angie Harmon & Jason Sehorn
Event Chair: Kim Gatlin
2001
Theme: Treasure Island
Honorary Event Chairs: Stephanie & Bennie Bray
Event Chairs: Laura & Tom Sutherland

Treasure Street reached $2 million goal to defray the cost of the TSC Clinic patients' pharmacy and laboratory expenses.
2000
Theme: Dancing in the Street
Honorary Event Chairs: Judith & John Ellerman
Event Chairs: Dee Carter & Cindy Galpern
1999
Theme: A Night Under the Stars
Honorary Event Chairs: Sydney & J.L. Huffines
Celebrity Chair: Sheree Wilson, of Walker, Texas Ranger
Event Chair: Kelli Silliman

Treasure Street reached $1 million goal in support of the TSC Clinic, adding a dedicated case manager/research assistant who implemented the creation of a database of research findings on TSC patient population:
A direct resource for families needing assistance
An educational support group for families and patients
A coordinator to help the TSC medical team facilitate information and findings that physicians have been able to publish nationally and internationally
1998
Theme: Treasure Street
Honorary Event Chairs: Carol & Jeff Heller
Celebrity Chair: Justin Leonard
Event Chair: B.K. Sloan
1997
Event Chairs: Michelle Dunlap & Pam Ellerman
1996
Honorary Event Chairs: Annette & Harold Simmons
Event Chairs: Carter Families

First Treasure Street event held at TSRHC. Each guest was asked to bring a personal "treasure" to contribute to the silent auction. Items were displayed in a street fair arrangement, thus coining the "Treasure Street" name. The event raised $150,000 in its first year.
1990
The Tuberous Sclerosis Complex (TSC) Clinic at TSRHC was established.